Whales of Québec
Let yourself be surprised
AN UNFORGETTABLE ENCOUNTER!
The St. Lawrence River is a unique place in the world to see whales in their natural habitat. With stunning landscapes, 13 whale species, an enormous marine park and amazing cruises, it's the ideal destination for a truly unforgettable experience: an encounter with the giants of the sea.
13 different species of whales.
Including the blue whale:
The largest animal
that ever lived on earth.
One of the best places in world for whale-watching.
Discover grandiose regions
Côte-Nord
Come to Côte-Nord and bear witness to the whales' awesome feats as they hunt for food. With its endless beaches, delightful Gourmet Tourist Trail, unique attractions and fascinating marine interpretation, this still-undiscovered region of Quebec offers breathtaking scenery of spectacular natural splendour.
Discover our region
Charlevoix
You will be unable to resist the charms of Charlevoix. From the St. Lawrence to the mountains, its people have cultivated an art of living that in turn has fostered a thriving culture. Thanks to its rich and fertile soil, chefs and producers have together created an authentic recipe for happiness!
Discover our region
Bas-Saint-Laurent
The pleasures of driving on country roads and along the St. Lawrence as it turns from river to seaway. The joy of discovering its poetic landscapes, enchanting islands, heritage lighthouses, authentic local fare, traditional artisans, and attractions steeped in the region's maritime history. Bas-Saint-Laurent: Your good time world reserve!
Discover our region
The kingdom of whales
is in Québec

One of the best whale watching sites in the world.

A 1,245 km2 marine park.

Different species of whales.


Including the blue whale:
Up to 135 tons and 30 metres.
The largest animal that ever lived on earth.
Whale watching cruises by Eco-Whale Alliance members
Board a vessel belonging to one of the PROUD MEMBERS of the Eco-Whale Alliance to live a distinctive experience in the land of whales, seals and sea birds.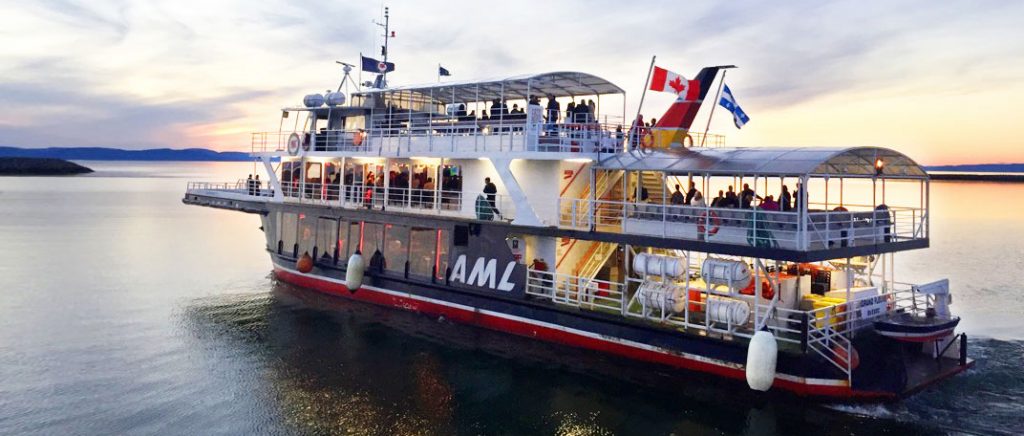 Croisières AML
Croisières AML is the largest cruise and tour company in Canada with 24 vessels operating out of ten ports across Québec. Croisières AML offers whale watching tours departing from Rivière-du-Loup, Baie-Ste-Catherine, and Tadoussac. Come aboard to discover the grandiose world of whales and take advantage ot Croisière AML's unique "Whale Guarantee."
Find out more !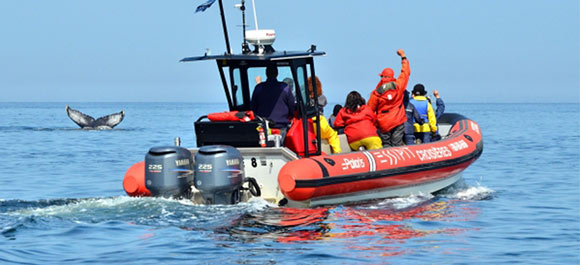 Croisières Essipit
Croisières Essipit invites you to discover a unique marine world aboard one of its six Zodiacs. From the dock at Les Bergeronnes, located 24 km east of Tadoussac, our captain and naturalist will take you on an incredible two-hour journey into the wondrous world of whales. Don't miss it!
Find out more !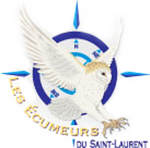 Les écumeurs du St-Laurent
Écumeurs du Saint-Laurent invites you to explore the fascinating world of whales aboard our zodiacs under the guidance of our passionate captains.
Find out more !
Sustainable whale watching

For the past 5 years, Alliance members have rigorously followed an improvement process in order to ensure that the sea-born activities in the marine park are a model of sustainability. Encouraging one the Alliance's proud members is equivalent to showing your support towards the dedication and experience of the captains, naturalists, and all employees of the companies who actively protect our whales by respecting laws and raising visitor awareness of the jewel which is the Saguenay-St. Lawrence Marine Park. Make an environmentally responsible choice! Look for the PROUD MEMBER of the Eco-Whale Alliance logo when booking your next cruise.